School-Business Partnerships of Long Island, Inc. Joins The Minstrel Players in the "Community Give Back" Program
School-Business Partnerships of Long Island, Inc. (SBPLI) has announced that The Minstrel Players, Northport's oldest theatre group, will take part in the "Community Give Back" program during the 2013-2014 season. More..
---

2014 Fundraising Campaign
To support our 2014 fundraising campaign for the FIRST Robotics Competition and to learn more about the program, please click here: www.razoo.com/SBPLI2014.
---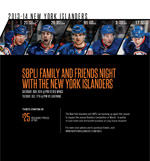 SBPLI FAMILY AND FRIENDS NIGHT
WITH THE NEW YORK ISLANDERS
TUESDAY, DEC. 17TH @7PM VS LIGHTNING
The New York Islanders and SBPLI are teaming up again this season to support the annual Robotics Competition in March! A portion of each ticket sold will benefit hundreds of Long Island students!
WWW.NEWYORKISLANDERS.COM/SBPLI


---
Award Winners: View 2013 Award Winners
---
Featured in Newsday: Read the "Coopertition" Article
---
2013 Musical Theme Contest Winner: Listen to the Winning Musical Theme
WELCOME TO THE SBPLI, INC. LI FIRST WEBSITE
Dubbed the "NCAA of Smarts," the annual Long Island FIRST robotics competition focuses on a no-holds-barred struggle among 120-pound robots designed and built by joint teams of high school students and corporate engineers. While fierce competition is the order of the day, winning is within very controlled game rules with point scores determining the ultimate victors.
FIRST (For Inspiration and Recognition of Science and Technology) is a nation-wide program, founded in 1989 by inventor and entrepreneur, Dean Kamen, with an imperative, singular focus of exciting more young people about the fun, accessibility, and importance of science and engineering as a career field.
As you visit our site, please consider encouraging your high school to participate or sponsor our robotics competition. For more information, contact SBPLI, Inc.
GOALS & PURPOSE
The School-Business Partnerships of Long Island, Inc. (SBPLI, Inc.) is a 501(c)3 non-profit organization founded in 1984 establishing programs which link high schools and businesses throughout Long Island. Our vision is to create an educated workforce for Long Island by opening the minds of students to career opportunities through a collaborative partnership of schools, businesses, community organizations and government. Read More »
HISTORY
Since its inception, SBPLI has partnered over 100 schools with local businesses. More than 30,000 students have been directly influenced by internships, jobs, and other close relationships with participating companies on Long Island. Hundreds of school staff and faculty have experienced the need for new thinking about what kind of skills they should be teaching. Many courses of study have been changed or introduced as a result of school-business collaboration. Read More »